So, I love making large gourd vessels with shed deer antlers as "handles".  With a new shipment of dried gourds staring me in the face, (even though I have more than enough finished gourds for the next show) I decided to use my last two remaining antlers.
I cut open two huge gourds and colored the insides  black. In my opinion, these look best in natural colors, with pine-needle rims. The pine-needles do the best job of attaching the antler handle. The problem is I ran out of brown and yellow dye. So I hauled out some old, half-frozen brown wood stain. I applied it, but it wouldn't dry. Tacky all day. Added some purple alcohol ink on top, hoping to soften it. Purple being the closest to brown that I have. That helped, but it looked incomplete. Lettuce green might warm it up and give it some depth. (I know, sounds crazy) The green disolved all of the purple and most of the brown stain, leaving a mustard gold under layer with streaks of dark brown, looking remarkably like old wood. Perfect.
Now for the pine needle coiled rim. Lazy me decided to mix up the leftover colors of dyed long leaf pine needles instead of hunting for more. Multi-colored rim! It worked perfectly, the loops secured the antler to the gourd. I had good light for a living room photo of the completed gourd.
I made another one in a persimmon color and black pine-needles.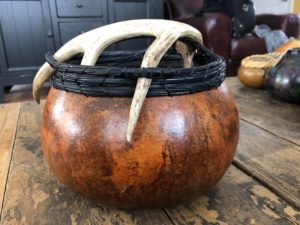 And finally, some fun with color combinations on these small pots.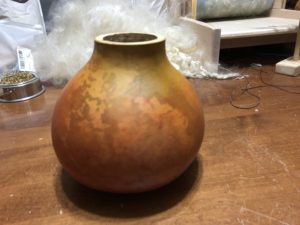 Good news: I found a very nice person who was willing to trade shed antlers for a gourd bowl. So awesome!