Thank you to all the folk who put on this event, you do a marvelous job of making the participants feel welcome and appreciated. We loved the new fancy portojohns! A/C, running water, mirrors…..it was great. The free meals you fed us were outstanding. Great crowd, even with the abominable heat. I wasn't too mobile, knee surgery scheduled a few days after the event. We had some nice sales, met some cute and curious kids, new friends…wonderful event. I highly recommend it. Also, it was my first time in my Native personna. I was comfortable and as authentic as one would expect for the first time out of the gate. We'll definitely be back next year!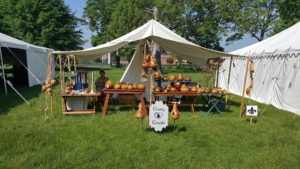 And…I've been working on some gourd jewelry: necklaces and earrings. A nice change of pace, easy to do while recuperating.
I write this on the 3rd of July, looking forward to the holiday tomorrow!