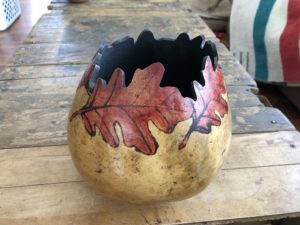 One week until the Kalamazoo Living History Show in Michigan. It's a long running, BIG indoor show at the Expo Center. First time for us, so we're excited. Friends have said we won't be sorry.
The bins are all packed and ready to load in the truck. Although, I'm working on a new technique, (Oak leaf pattern is pictured above) and might squeeze in a few more gourds.
We'll be dressed in period appropriate clothing for the event, 1750's. It's time to shake out my stays (corset) and iron my dress.
Thanks to hubby's skills in the workshop, I have a new display to use for my gourd necklaces and other hanging gourds.
Sneak peak at my practice gourd for learning to carve on gourds.